Conventional is the method of construction of insulation of a roof in which the thermal insulation is placed under the waterproofing.
This insulation is applied either with foam concrete or with thermo-insulating lightweight concrete. In the first case, the following stages of construction are:
vapour barrier
Thermal insulation with extruded or expanded polystyrene
Creation of slopes with foam concrete
Waterproofing with bitumen
While in the second case:
Creation of slopes and thermal insulation with insulating lightweight concrete
Waterproofing with bitumen.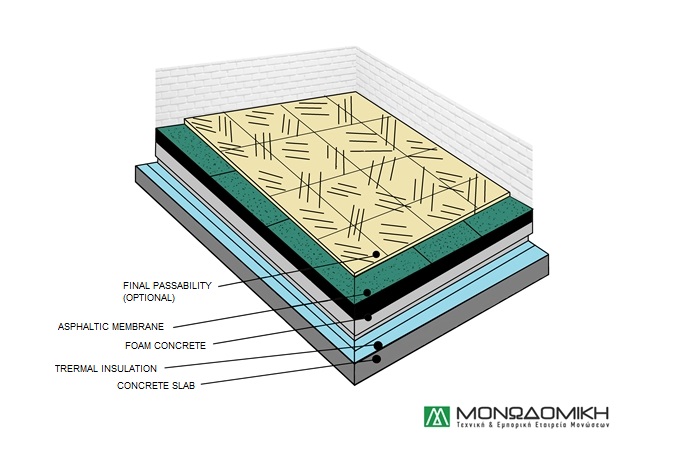 In Conventional Insulation, the final surface can be a bituminous screed with a mosaic coating, in cases where the use of the roof is limited (simple visit), but any material of final depth and use such as tiles, industrial flooring, concrete slabs, etc. can also be installed.
The biggest advantage of this type of insulation is the construction weight and cost ratio. In case you do not intend to use the terrace by placing a table and chairs, the conventional method with the final stage of bitumen is a complete system of protection against cold, heat and moisture, with a very low weight per square meter (30-35kg) and cost more economical than other insulation systems.
Useful advice: Whichever integrated insulation system (thermal insulation and waterproofing) you decide to install on the roof of your building, keep two key things in mind:
Apply a separate and specific waterproofing system (a simple emulsion on a concrete slab is NOT waterproofing, tiles are NOT waterproofing).
Roof waterproofing should be applied on top of the slope layer (foam concrete, cement mortar, perlite concrete) and not on the concrete slab.